DEMARIA
The Open Lake & Landscape
Studio d'Arte
Varenna, Lake Como
I T A L Y
---
Artist's house cm 30x60 12" x 24"
---
Balcony on Lake Como cm30x40 12" x 16"
---
Bright echoes cm60x120 16"x32"
---
"...Every day new challenges and new explorations: this in essence the guide-line of an open-air impressionist. The commitment is to possibly capture, in terms of a fast impression, the fugitive moments of a day and a place..."
---
I Corni di Canzo cm50x100 20"x40"
---
Chicago Bridge
---
Chicago river landscape cm50x60 20"x24"
---
Corn and poppies on a hill-side cm 60x120 24" x 48"
---
Field of violet flowers cm40x80 16" x 32"
---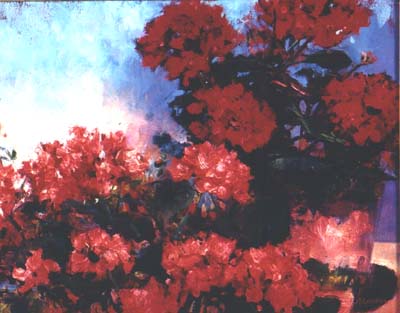 Geraniums cm35x45 14"x 18"
---
House on Lake Como cm 40x100 16" x 39"
---
Imperia: an ancient mediterranean town cm40x120 16"x48"
---
A Lake Como Beach cm78x104 30"x40"
---
"...Every day differs from another. There are continuos changes of light and shadow. Through a fast working session one must try to convey the rendering of a situation, the spirit of a place and relate it all to the uniqueness of the moment."
---
Garden steps cm50x100 20"x40"
---
Kyoto Spring cm25x60 10"x24"
---
Lake Segrino's water-lillies cm40x80 16"x32"
---
Light-house, Lake Michigan cm30x40 12"x 16"
---
Ligurian nocturne cm15x40 6"x16"
---

Loading before departure cm30x80 12"x 32"
---
Marshall Fields, Chicago cm60x40 23"1\2x 16"
---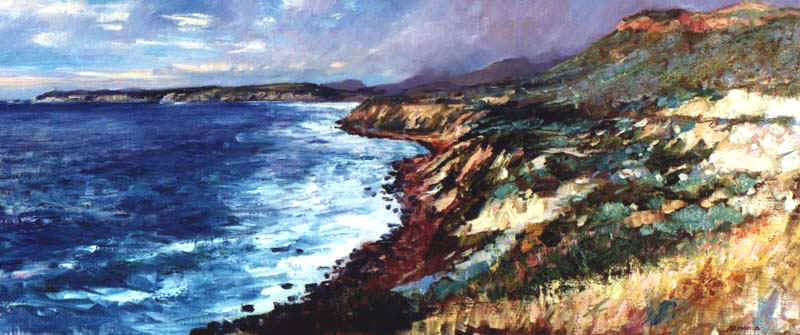 The Mediterranean Sea, Sardinia cm50x120 20"x 48"
---

mimosa cm40x100 8"x40"
---
Modern-old contrasts cm40x80 16"x 32"
---
Morning on the lake cm 50x120 19"x 47"
---
Mountain in still waters cm40x80 16"x 32"
---
Mountain view-point of Lake Como cm60x120 24"x48"
---
My old kitchen cm40x70 16"x27"
---
Nocturne interior cm40x50 16"x 20"
---
Old abandoned freight-trains cm50x100 20"x40"
---
Oak tree and pond cm40x80 16"x32"
---
Old Chicago police station cm30x40 12"x16"
---
Passing clouds,Yorkshire cm20x60 8"x24"
---
Poppies near Verona cm60x120 24"x48"
---
Persimmons on blue cm50x100 20"x 39"
---
Railway intersections, Chicago cm40x80 16"x32"
---
River estuary, Tuscany cm 60 x 120 24" x 48"
---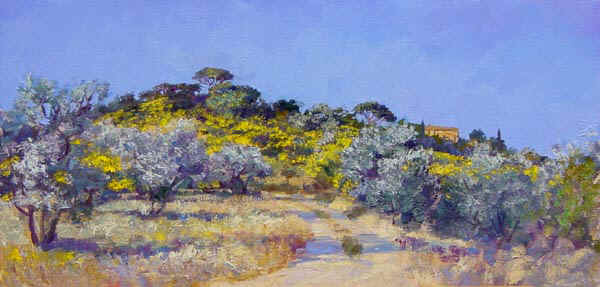 Road through gorse and olive trees, Tuscany cm 40x80 16" x 32"
---
Roccastrada, Tuscany cm40x100 16"x40"
---
Seaport Nocturne, Liguria cm30x70 12"x 27"1\2
---
Ship on turquoise-emerald cm25x60 10"x 23"1\2
---
Still-life on a shelf cm30x80 12"x 32"
---
Still-life on a table cm40x80 16"x32"
---
Still-life with bottles and ceramics cm40x50 16"x20"
---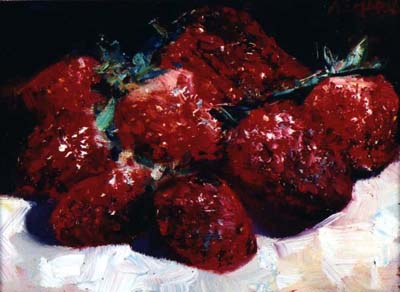 Strawberries cm13x18 5"x 7"
---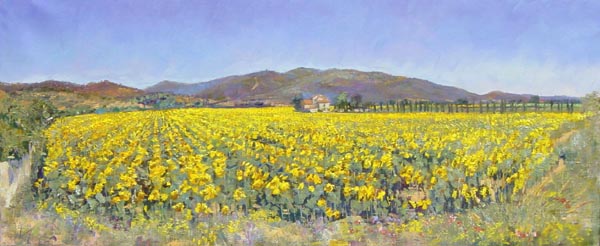 Sunflowers cm 50 x120 19" x 47"
---

Sunny Tuscan planes cm 30 x 80 12" x 32"
---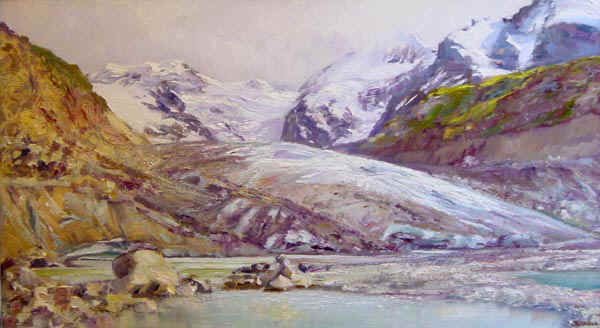 Swiss glacier near St.Moritz cm40x70 16"x 27"1\2
---
...."In the studio, the freshness of the impression would surrender to the concept . The intent is to keep poorly outlined the idea of interpretation, allowing the pattern of colours to express to the viewer the "impact" of a scene."
---
Three pine trees, Tuscany cm50x60 20"x24"
---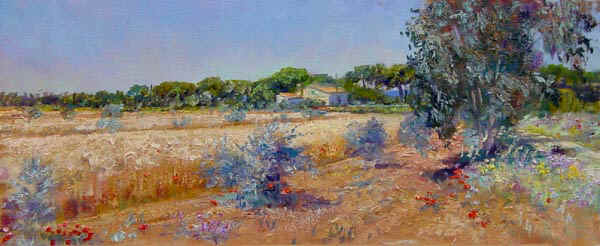 Tuscan farm cm 30 x 70 12" x 27"
---
Tuscany by the sea cm30x80 12"x 32"
---
Villa Cipressi, windy day cm50x100 20"x40"
---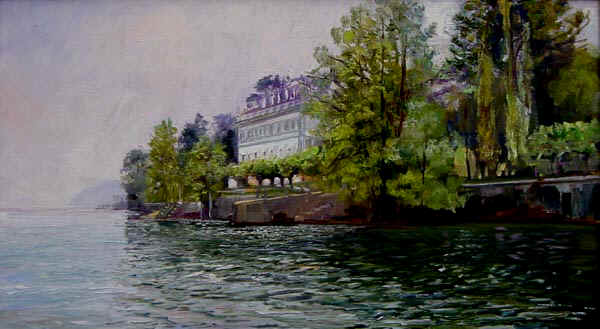 Villa Melzi, Lake Como cm 40 x 70 16" x 27"
---
Villas and gardens on the lake cm50x100 20"x 39"
---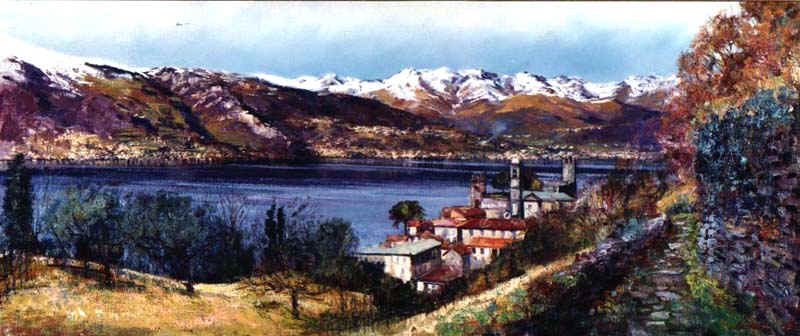 The Wanderers path along Lake Como cm50x120 20"x 48"
---
" I hardly ever return, to the same spot to finish or continue a painting: everything needs to be conceived, painted and finished in few given hours.
"
---
Water lillies and lotus cm 40x80 16" x 32"
---
Professional Artist since the age of 16 (exclusively)
Born in London in 1956 to renown Italian artists: Bruno Guaitamacchi, painter, and Magda ,sculptor and ceramist.
His brothers Luca and Jonathan are successful painters.
Studies: Liceo Artistico di Brera, Milano
Accademia Delle Belle Arti di Brera, Milano
Gallery\exhibitions

:

-Galleria Bolzani, Milano.

-Galleria Cŕ D'Oro, Vicenza

-Galleria "Incontro", Verona

-Galleria "alRitrovo", Cernusco Lombardone.

-"La Galeria", Stuttgart, Germany.

-Gallery "34", Skipton, Yorkshire.

-Highgate Fine Arts, London.

-Centro Culturale Rosetum, Milano.

-Chiesa Bianca, St.Moritz, Switzerland.

-"Valentinarte", Bellagio, Lake Como.

-Galleria d'arte Carla Guarneri, Milano, Gorgonzola.

-"Signature of Art", Glencoe, Illinois (Chicago Northshore).
One man and collective exhibitions have been held invarious art galleries, historical sites, theaters, hotels,banks,etc.by art-dealers or by the artist personally.
---
..."A painting is always an interpretation, but having stated this, the research for the "visible concreteness of a significant moment" is for me the only exciting direction possible . The implication is that in the "open" all the prejudice settings of how we perceive the world are deeply questioned and colour seems to carry the chance to view thimgs in other possible ways...
While working I may refer to different styles and use what I most like or may be useful: impressionism, French or Italian; English and Dutch landscape traditions just to mention a few. Also expressionist elements and even the more recent texture experiences in painting may be implied for rendering the experience of a day, of "those" hours and the place chosen (or encountered) for realizing the work.
I have been described "Classical", but I know that the direct relation with the subjects, a modern colour sensitivity, and the unevitable changes in the landscape itself, result in a mirrored reality that consequently reflects our time.
It is very satisfying to know that there is appreciation now in many countries. Many people have acknowledged how my paintings have slightly modified or sometimes reinforced their way of perceiving places, seasons and colours. I believe that, after all, this may result in a contribution for a new sensitivity for the world, and specially for Nature. "
---
Paul DEMARIA
& Melita Lendway
Guaitamacchi
The Open Lake & Landscape
Studio d'Arte
Contrada del Prato, 4 23829 Varenna, (LC)
ITALY
Tel: +39 335 6086530 (mobile)
E -mail: pdemariaguaita@hotmail.com
---
The permanent gallery-studio in Varenna, Lake Como, welcomes followers, friends, clients and whoever wants to visit and view.